Beginning
Part 2
Day 1 - October 6th:
We arrived in Frankfurt at 5pm. Took an expensive cab ride to the
Intercontinental Hotel. This was Germany lite. Everyone speaks
perfect English. The phones have dataport connections. Seemed just
like the Marriot in San Jose.

Our room had a nice view of the Main river.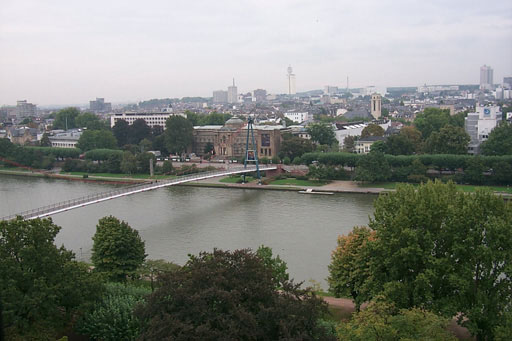 Ate at a German place where they all smoked and spoke no English. I ordered
a strange Wurstsalat (cut up sausage cold with cheese and pickles with fried potatoes)
Margaret had Frikadelle (fried hamburger with very carmelized onions and fried potatoes).

Day 2 - October 7th:
After a bad continental breakfast we picked up the car. A huge Ford station wagon.
(Automatic - Margaret was stoked). Headed west towards Rudesheim on the Rhein.
Roads are excellent though you don't get much warning before the turnoffs.

Rudesheim is on the North side of the Rhein. Full of tour busses and junk so we didn't
stop. Took the ferry across the river to Bingen.
(Yes, Mother, that's "Bingen, Bingen, Bingen on the Rhein")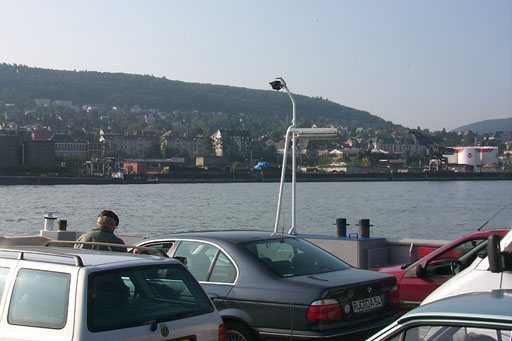 Bingen is a big city and didn't hold our interest long so it was up the river. We decided
we would stay in Bacharach from the suggestion in Rick Steve's guidebook
(Thanks Will for that) only about 20 minutes up from Bingen. We drove there first
to get the room. The cobbled streets are very nice with all sorts of shops.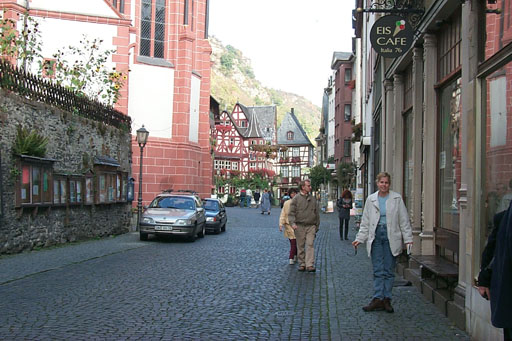 After setting up the hotel, we drove back down along the Rhein and checked out
the castle at Rheinstein. We then headed up to St. Goar where there was a huge
castle with ruins to explore. We ate lunch at a pizzaria owned by middle easterners
before heading up the steep hill to the castle. We spent several hours all around that.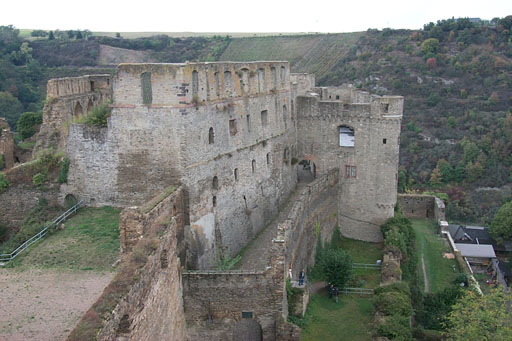 From the top of the turret was amazing view of the entire Rhein valley.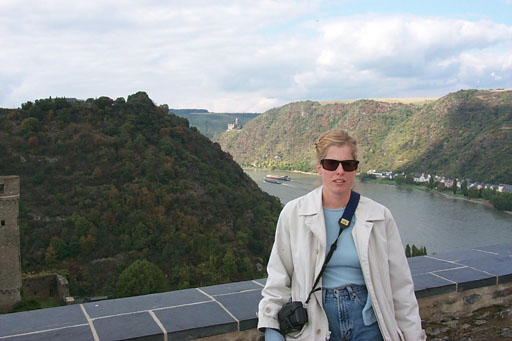 Then headed back to Bacharach to relax a bit before dinner. We ate at a nice
Pasta house (staying away from heavy German food where possible) then set
out for the wine bars. Town is so quiet at night it is amazing. We found a small Weinstube
filled with locals. Asked for the Weincarte and ordered quite a few by the glass.
Margaret prefered suss (sweet) and I took trocken (dry). Very nice local white
wines similar to our Savignon blanc and muscats. Margaret had a small sweet dessert
wine (slightly lighter then a sautern but too suss for me). Kevin & Amber and Traci &
Chuck would much enjoy (no reds here though). Vineyards everywhere. We are
going to check them out tommorrow.
Gute Nach,
Jeff und Margaret