Day 17 - October 22, 1999 - Berlin to Apeldoorn
Well we had thought of getting out of town early, but we left Berlin kind of late. We had attempted to find record stores (Vance, you could have mentioned something alittle earlier) on our own, but Berlin is hard to navigate. We had no map of the Netherlands so we thought we'd go to the end of our roadmap. This took us to the town of Apeldoorn. It was very dark and after 8pm, so we were tired. Many wrong turns of the autobahn and we found the city center. We checked into the Hotel de Paris and had to navigate up very steep stairs with all our stuff. Jeff was in shock because everybody speaks English. For dinner we had to have Indonesian, rice table. I know, Charley it sucks, Jeff and I ate really good.
---
Day 18 - October 23, 1999 - Apeldoorn, Amsterdam, Haarlem
The morning was bright and beautiful. We were there for market day in Apeldoorn.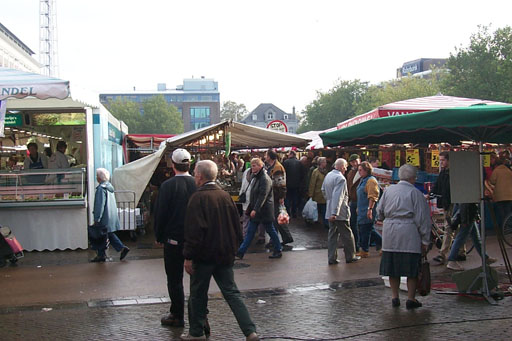 We enjoyed some ?broojie? grilled sandwich with ham, cheese and honey mustard sauce. The bells in church tower were real and we heard and saw them ringing (not just a recording). Once again, Jeff is liking that everybody speaks English. They also seem to be happy to do so. We were warned about Amsterdam parking. Once we found the city, we parked very near the center and walked a short distance to the Rijks museum. Jeff and I toured the museum and he found many artists that he really enjoyed. Now we may venture to some of the LA museums to find more works by these artists.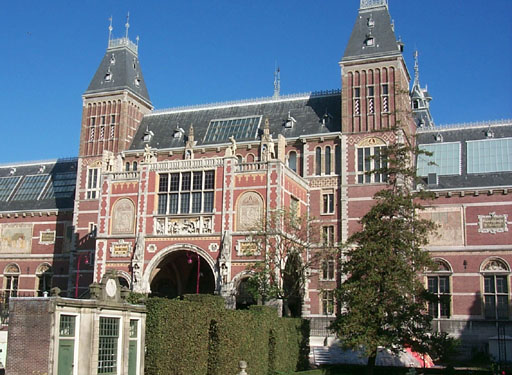 We walked about town enjoying the sites. The day was perfect. We did have to feed the parking meter a few times, but we grabbed an Argentinian meal. On our way back toward the car, I spotted a Rick Steve's book on a couple's cafe table. Seeing as how, we had no info on Netherlands, I stopped and talked with them. The couple was just starting their holiday from San Diego.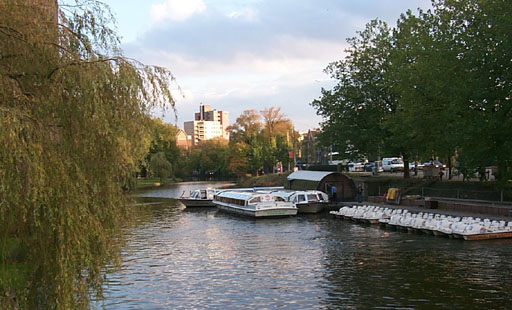 There was a cute cafe (Hansel and Gretels) and we had a Dutch Pancake with apples. Yum. Then we followed the signs to Haarlem.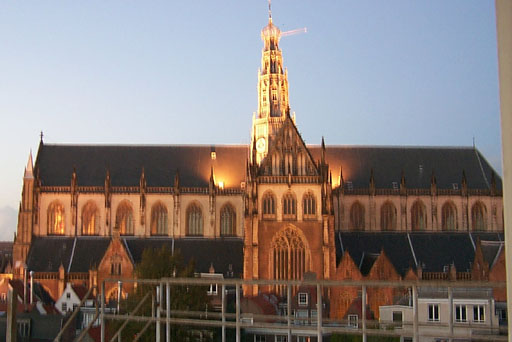 It only took about a half hour. We missed market day here. They were just cleaning up. We got parking right in front of a hotel. We registered and said hello to the cat at hotel Joops. The view from our room was the very large church. The town was bustling. We had a late dinner at Napoli in main square
---
Day 19 - October 24, 1999 - Haarlem to Zell
Sunday. Today was the first Sunday we were on our own. Jeff was amazed that everything was closed. Really closed. One cafe was opened in the main square, Cafe Doria and we had some food.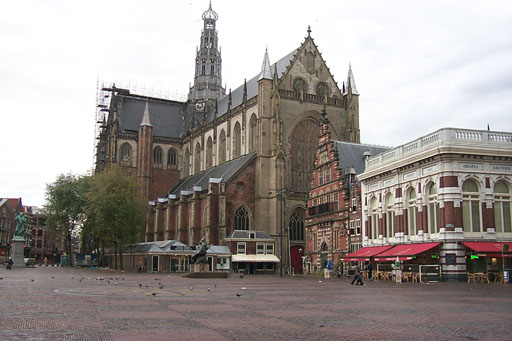 It rained like hell today. This made the drive down the Mosel tiring. We had lunch at a roadside Italian restaurant. We then drove to Zell and checked into the Krantz Hotel. I had a bit of a rest, Jeff explored town. We then went to a weinprobe at the Zellar Schwarze Katze. We got two bottles. Then a german meal and early to be.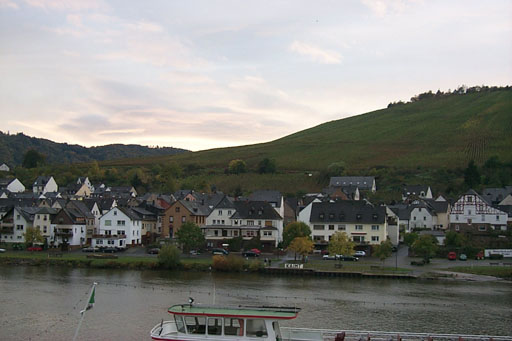 ---
Day 20 - October 25, 1999 - Zell to Frankfurt
It wasn't raining today, but foggy. We bought some Eiswine in Zell.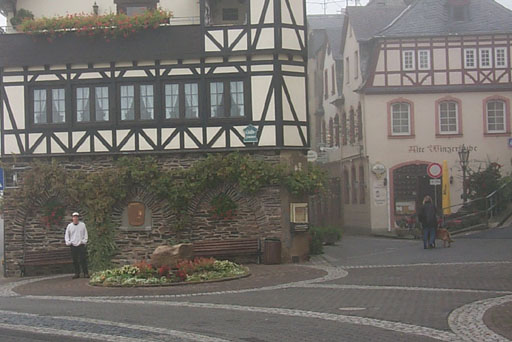 We then drive up the Mosel. We stop in a large town to take a picture of the Cochem castle. Then we drive up a very small road and hike on a very wet foot path to the Burg Eltz. This is a castle that has remained in the family for some 850 years and still is owned and maintained by the family. We took a tour. It was not lavish by Bavarian standards, but we liked it. It seemed more realistic.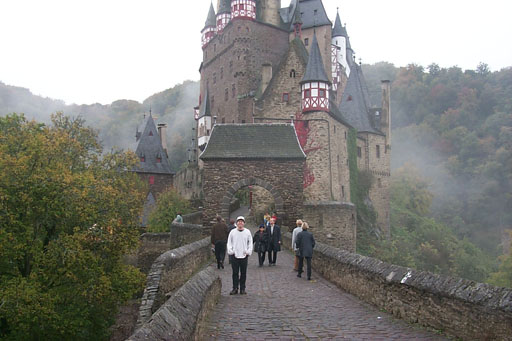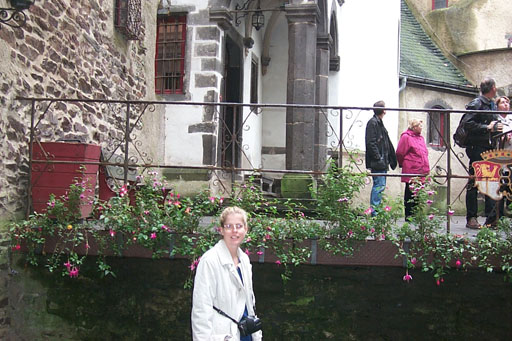 We drove up the Mosel to Koblenz then down the Rhein. Lunch was a gyro. Then to Bacharach for a glass of wine and a farwell to the Rhein. Then to Frankfurt. Getting into Frankfurt was easier (Jeff was navigating this time). We returned the car and had dinner at an Euro Asian restaurant. Early rise time tomorrow.
---
Day 21 - October 26, 1999 - Frankfurt to Home
Here is where we are supposed to put our words of wisdom, our thoughts and perhaps likes and dislikes.