Jeff's, Margaret's and Mike's Tahoe and Sonoma Extraveganza
Well we are at it again. This is a short trip with a focus on skiing, food and wine.
February 23-26, 2000 - Squaw Valley, Tahoe, California
February 26-29, 2000 - Sonoma/Napa California
---
February 26, 2000
The drive into Sonoma brought a lot of rain. We seem to be catching the rain on our travel days. We arrived in the afternoon to the cute square of Sonoma. We were too early to check-in so we had a stop at a cafe. I had some lunch and the guys had coffee. We then checked into the Thistle Dew Inn Bed and Breakfast. Cute place.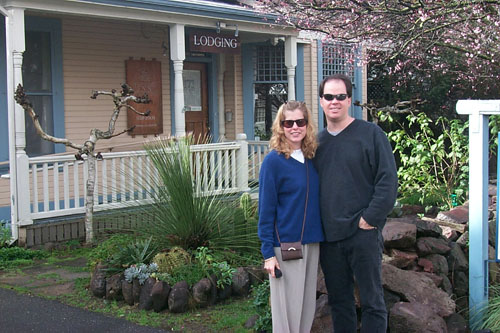 We rested up before dinner. Jeff got some work done (he had a Game Developer article due). We went for a walk and had a hard time deciding where to go for dinner. We had drinks and appie-tizer at the Swiss Hotel. This is a historical landmark. We had some great wine. I stuck with the woosie whites, a champagne and then a very good Savignon Blanc from Kenwood. The guys had reds, but did like my Kenwood. We had baked brie and were lit and ready for dinner. We decided to have Italian and headed to Piatti. There was a short wait, so we had some more drinks at the bar. Dinner was quite good, but we can't remember what it was.
February 27, 2000
Okay, the Thistle Dew rules! We had a great breakfast of raisen french toast, fruit, ham ... very good. The food put us in the mind of WINE. We went to
Ravenswood
Benzinger
Chateau St. Jean
St. Francis
Lots of wine was purchased. We went back to Sonoma for a snack and a rest before THE DINNER. At 4:30, we met Michael's friends, Isabelle and Greg, and headed over to the French Laundry. The building is unassuming, but the food, Oh My God! We started dinner at alittle after 6:00 and left the restaurant at 10:30. Every course was a pleasure to the palette and the eye. Greg couldn't help giggling while he was eating. We all had things we would never have ordered, but this was art. Michael got the 9 course tasting menu. The four of us got the 5 course menu and got to choose our courses. In addition, we had two pre-apps and then two after desserts and chocolates. It was incredible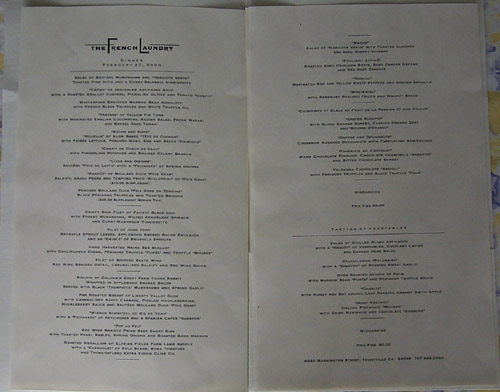 February 28, 2000
Breakfast today was Dutch Babies. For the un-initiated, these were yummies I would make for dessert. Anyway, here they are for breakfast; very eggy pancakes cooked in the oven, they puff up and are filled with ricotta cheese and topped with raspberry jam. The gang, minus Margaret (still recovering from cold), went out to do more wine:
Benziger (again)
Sterling
Kenwood
Niebaum-Coppola
Everyone was excited about the $7 Kenwood Zinfandel. At the Thistle Dew a bottle was opened during the hors d'ouevre hour. Dinner was much more casual this evening. We crossed the plaza to Maya Restaurant, which had big or small items.
February 29, 2000
We requested the lemon poppyseed pancakes when we arrived and today we got them. This place is worth the breakfast. We couldn't leave wine country without the last few stops
---
Thiste Dew Inn, 171 West Spain Street, Sonoma CA 800-382-7895

Piatti Restaurant & Bar, 405 First Street West, Sonoma CA 707-996-2351

Swiss Hotel, 18 W Spain St, Sonoma CA

French Laundry, 6640 Washington Street, Yountville CA (707-944-2380