June 23, 2009 Redondo Beach to Paris, France
We caught the red-eye on Air France with no hitches.
Beautiful evening in gridlock traffic from Charles de Gaulle to our hotel in the 8e arrondissement. We are actually staying in Paris as Jeff has a teaching gig for the Master Classes series. This is very different from our other arrivals into Paris: get a car and drive to regions of wine. We are going to make the most of Paris in summer. We settle into the New Orient Hotel, up the winding, tiny staircase to the 4th floor. Nice view from the window. Gorgeous evening. It is too early for dinner and we need to keep moving. So we walk around a bit and come upon the Parc Monceau. Big, open public space with tons of joggers and strollers.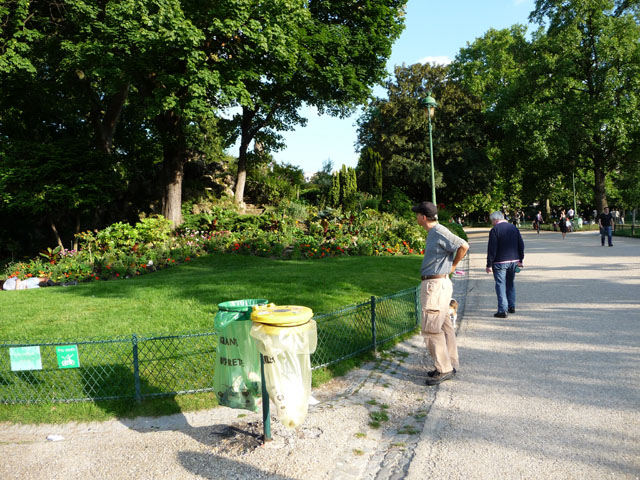 Along the way, of course we have been scoping out our dinner options: Lebanese, Italian, bistrot, cafe, restaurant ... We choose an airy Italian place. Yeah, whatever, I say to you now. Like you don't eat Italian or shepard out-of-town guests to that "great taco place." So we settle in with a cool rose. Jeff starts with the asparagus. It was beautifully prepared and I have the tomatoes with buratta. Wow. Jeff moves onto the duo of ravioli with scallops and I have the asparagus risotto. We finish with a cherry mousse and coffee. Ah the french cafe. Blurry with jetlag and full tummies, we meander back to the hotel.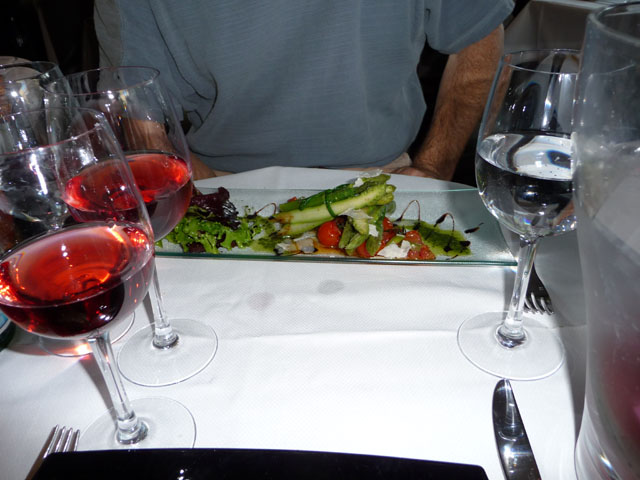 June 24, 2009 Paris
So Jeff and I want to play tourist in Paris for the day. Breakfast starts with an apricot pastry for Jeff and a chocolate twist thingy for me. Hope we can find this place again. Near our place, but not too near. One museum, and I choose the L'Orangeries, Jardins des Tuileries. This houses the Monet water lilies. Nice park and the orange trees are outside (notice Charley, the sun is shining. It is warm in summer. How pleasant).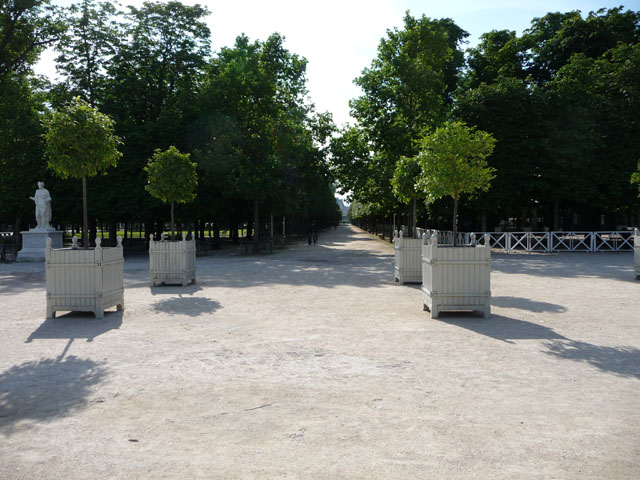 Not worth taking pictures of the panels. Only professionals can do justice to these pretty paintings. There was quite a few other paintings in the gallery: Picasso, etc.. Outside of the Tuileries is a Tour de France site, La Place du Concorde. Part of the last circuit to wind up each edition of the TdF.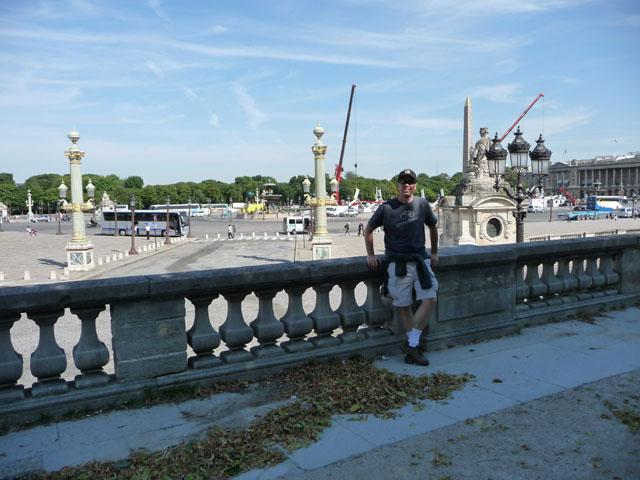 We walk along the Champs-Elysees to the other part of the TdF circuit finale, L'Arc de Triomphe. Only got accosted by two gypsies.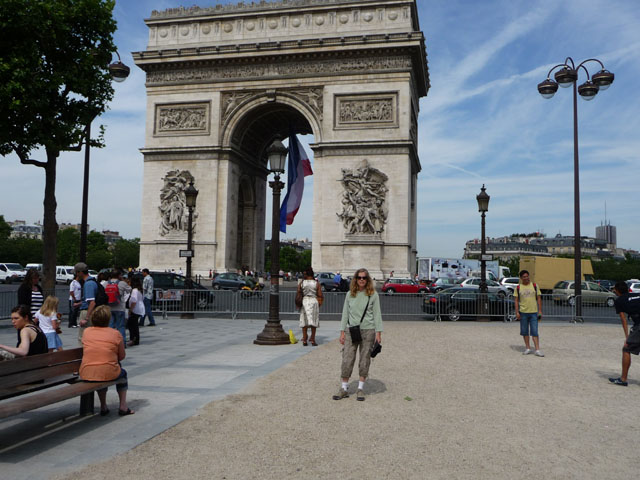 Lunch in the Le Marais district (thanks Khang). Walked around until something hit Jeff's fancy, Des Gars dans la Cuisine. I was dubious, but it was great. Again, cold rose to get the appetite going. Jeff had the melon gazpacho and I had the eggplant cavier. Now this is what intrigued Jeff on the board outside, chicken leg with rice and bbq sauce. What were the french gonna do with bbq sauce? It was quiet good. I have a sesame cod with spinach salad and an apple chutney. Jeff finished with watermelon soup (chunky style) and I had the melon with spices, quenelle of vanilla topped with crunchy ginger (gotta try this when I get home).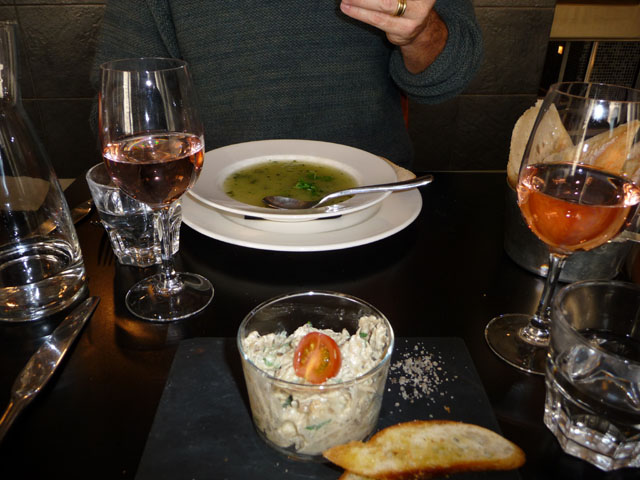 Satisfied and still a lot to see, we head to the Pont Neuf and the Equestrian Statue of King IV. Yes, you got it. We were in search of DeMolay.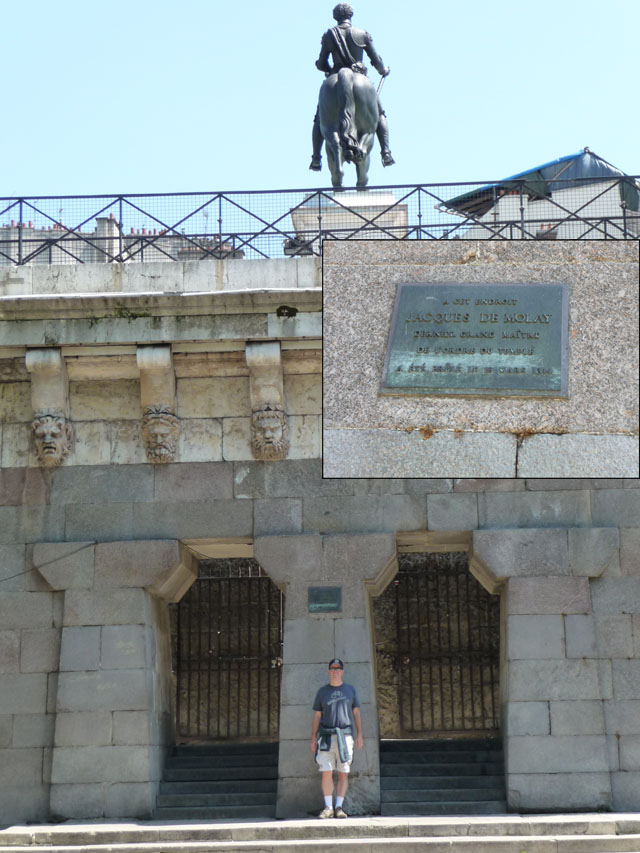 Just so there is no confusion, we are in Paris. The Tour Eiffel is in the background across the Seine. This is not Vegas, baby.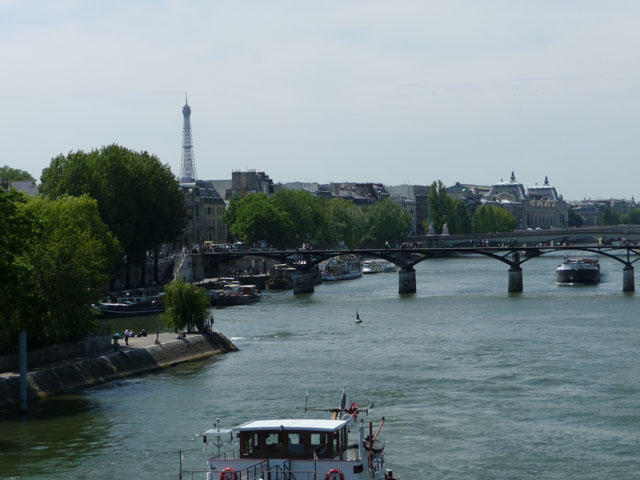 A little nap (shouldn't have done it), then a dinner at a very local (on the corner) joint, Le Gout des Hotes. Not fancy. Rose, salades (with cheese - roquefort for me and st. marcelin for Jeff), grilled veal chop for me and duck confit for Jeff. Finish with the house crepes. Good stuff.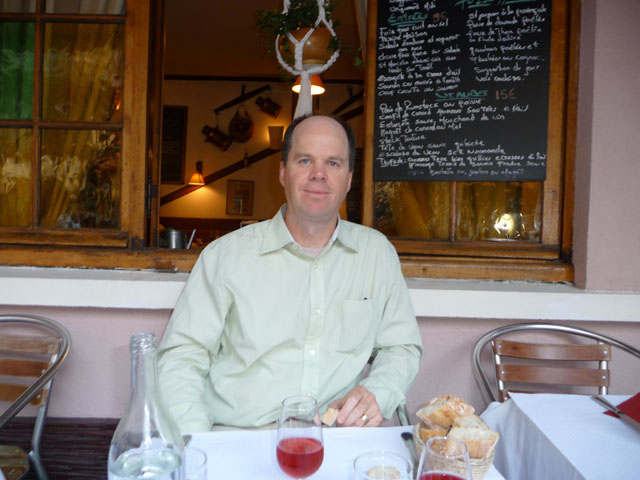 June 25, 2009 Paris
Although short, this is the longest Jeff has had to prepare material at one go. So the last two weeks have been all prep. But we are here and he is ready. A long day talking. Not a lot of interaction with the attendees, but Jeff got through the material without a hitch. One day down, one to go.
Well, I kinda knew it was coming. I had checked the weather forecast before leaving LA and there was supposed to be thunderstorms in Alsace for our weekend trip. That was later revised and I am currently sitting listening and watching the mother of all thunderstorms in our hotel room. Poor Jeff is out in all of this on his way to the Masterclass evening event. I "stayed in." I had bought The Three Musketeers as my holiday book. I walked a block to Le Bouco. A Bergerac, cod provencal style and a lovely dessert. Nice people watching on our little street. Ended up a very nice evening for me. Jeff had a bit of walking and more talking.
June 26, 2009 Paris
Day two for Jeff.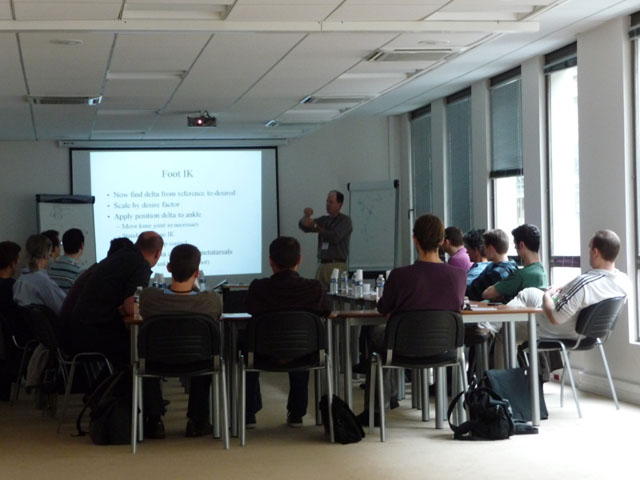 Good feedback. Hopefully next time in a different country. Day of wandering, not really to "sites" just around the city. Good Lebanese for lunch, Au Bois d'Acacia. Then dinner at a Turkish place, Sizin. Packed and of course we had some Turkish wine.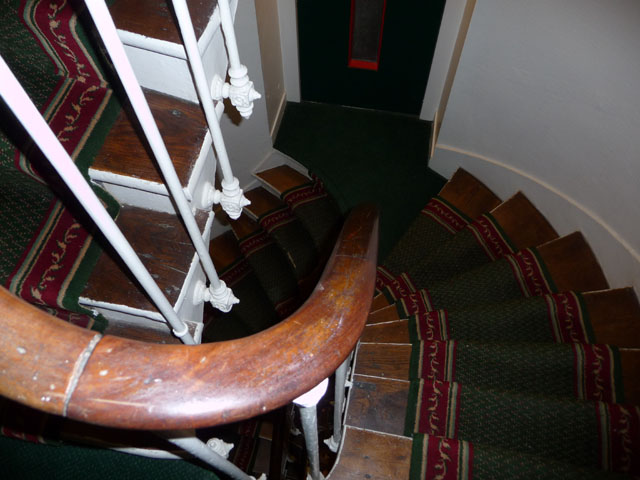 These daunting stairs have been our home for the duration. Now vacation really starts.