Day 4 - October 9, 1999 - Black Forest to Marbach
After kicking around the morning in Staufen and buying wine to bring home, we consulted our maps and Rick Steve's book and decided to head to the cheesy lakeside town of Titisee (picture below). We took a small tour through Black Forest (Schwarzwald). This is a real forest folks, unlike the excuse-for-a-forest in England, Sherwood. The weather was not clear but the scenery was still beautiful. Titisee had all the expected charm of the Black Forest. We liked it. Didn't buy anything, but had lunch at an Italian cafe. Jeff has improved on his table manners. Instead of spilling on himself, he got me. After lunch we cruised up to Marbach, outside of Stuttgart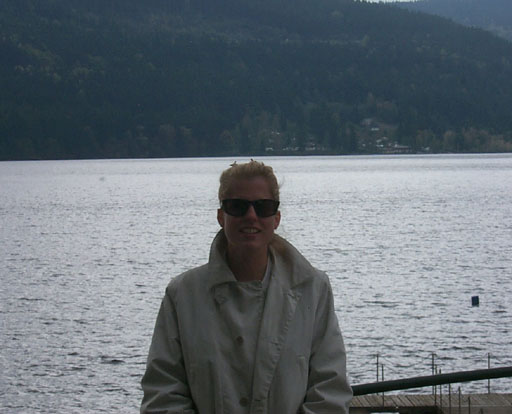 ---
Day 5 - October 10, 1999 - Rothenberg
Let's say last night was interesting. We are staying at the home of Birgit's parents. They speak no English. Really, no English. I don't know if Birgit told her parents that Jeff and I have never learned German in school and that we have no exposure to any German ever. Frau Zorn fed us and Herr Zorn asked about Charley. They really liked Charley because he ate a lot here. It has been 11 years since Charley and I visited, but Frau Zorn talked about all the food Charley ate. Anyway, Birgit's brother, Holger, and his girlfriend, Michaela, rescued us at 10 am for a trek to Rothenberg am ob Tauber. Hey Charley, do you remember how cold it was in December of 1985? It was cloudy and rained a bit, but not so cold. Rothenberg is a completely walled city. It is really cool.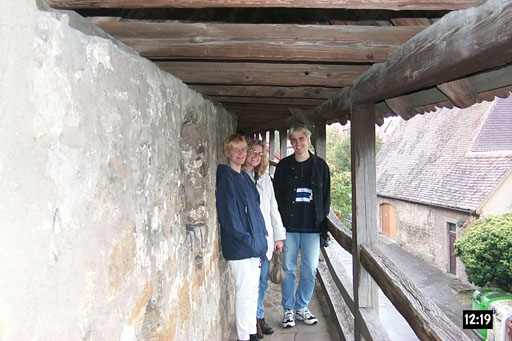 Frau Zorn told us to be sure to see the clock display at every hour. The town square was full of people waiting to see the clock. Basically the clock opened and two figures drank, on every hour.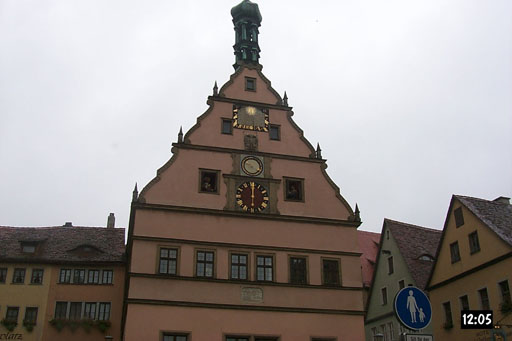 We had lunch and grabbed some Schneeballen (snowballs). This is a sweet mass of dough with different fillings and then covered in chocolate or sugar. Amber and Kevin- we saw a German Shepard and asked what it was called in German; Deutches Hund (german dog). I thought it would be something more, uh, exotic. Holger and Michaela entertained us at their spotless home. Have I mentioned how clean everyone keeps things? We went back to Marbach, where Frau Zorn proceeded to try to feed us. I said no, but Jeff accepted. Sucker.
---
Day 6 - October 11, 1999 - Marbach and Ludwigsburg
Frau Zorn took us on a tour of Marbach. This is also a walled city. Some of the house are built right into the wall. There is a population of 12,000 here. For lunch we had Zweibelkuchen (onion cake). Because it is something you are supposed to eat in this region. After lunch, we all went to Ludwigsburg Schloss in nearby Ludwigsburg. Wow. This is a beautiful place. The gardens are still in bloom. It was part of the Wurttemberg dynasty of the 1700s. It is Germany's largest baroque castle. As with all historical places, something is being fixed or cleaned. At Ludwigsburg, it was the entrance.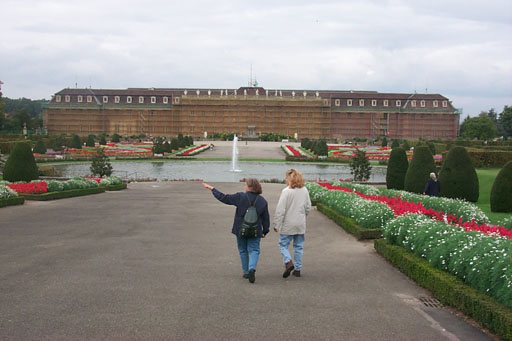 We did the tour in German , walked around the grounds and then enjoyed a walk throught the Childrens park (Marchengarten). This was set in the woods with small houses depicting fairy tales with the use of animitronics.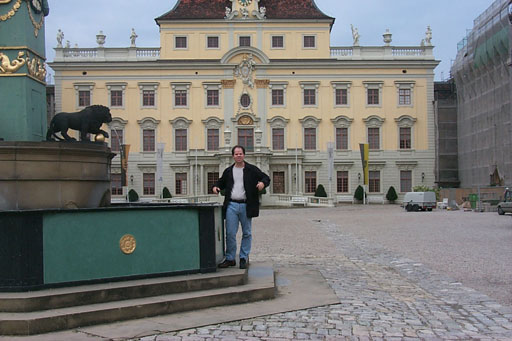 Dinner was shared with Holger and Michaela at one of the Greek restaurants in a cellar (Charley, we went there in 1988). Too much food, again. There is a lot of Greek restaurants in this country. Yum.
---
Day 7 - October 12, 1999 - Marbach to Kleinwalsertal to Fussen
Word of the day: Schnee

Frau Zorn wanted to take us to one of her favorite places. We followed her to a small town called Missen where we had a very good meal. I had Schnitzel and Jeff had roast pork (german style, not cuban style). It was very good, but Frau Zorn just couldn't understand why I was not eating the farmhand sized portions that I'd been getting at every meal. She though I didn't like it. After lunch, Frau Zorn took us to the Alpsee. A beautiful view. Then to Kleinwalsertal, dipped in Austria (only accessible from Germany though). This is in the Alps. We took the gondola up and walked around a bit. We couldn't have asked for a more gorgeous day. And yes, that is snow you see on the ground. Many people were hiking (we thought of you, Will and Jane and Kathy).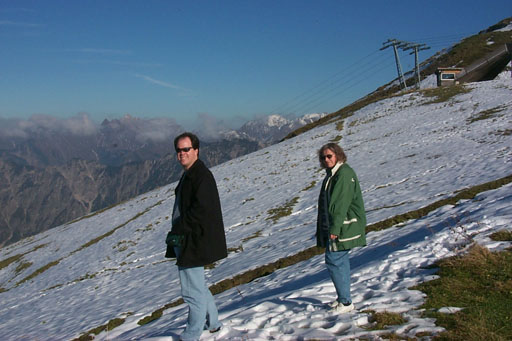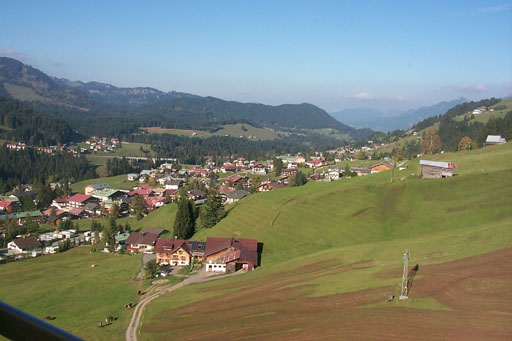 We then went on our way to Fussen and Frau Zorn back to Marbach. The food of choice this evening was a small bit of Italian.
Word of the day: schnee=snow
---
Day 8 - October 13, 1999 - Fussen (Neuschwanstein)
Today we were hoping the weather would burn off, but it didn't. It was cold. We had a leisurely day about. We had a whole itinerary that we ended up cutting in half. We drove a short distance to Neuschwanstein (that's Noy-shwan-stine), "New Swan Stone." King Ludwig II had a thing for swans. We hiked up from the parking lot on a Baldy-steep road. Lots of tourists at the top and visibility at about 20 yards. We waited 20 minutes for our tour (we were told that in summer the wait can be 3 hours). The place was, well(curled lip and shrugged shoulders) disappointing. Ludwigsburg is far more impressive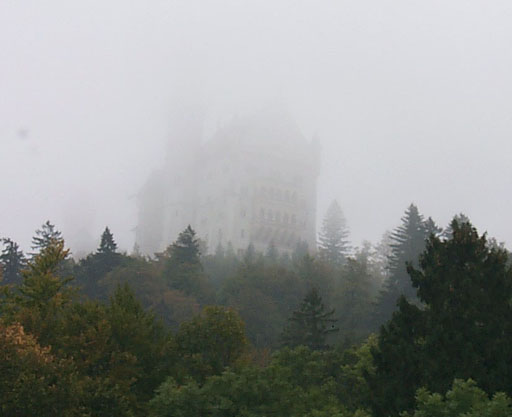 Neuschwanstein was built in the 1860-80s and was never completed, 'cause Ludwig was arrested and died suspiciously the next day. We did really enjoy the walks around the castle. The bridge above (Jeff is on it below) is supposed to have a beautiful view of the castel. We took the back way down to the car park. This route was woodsy with waterfalls (and people falls-Jeff slipped and took me out with him).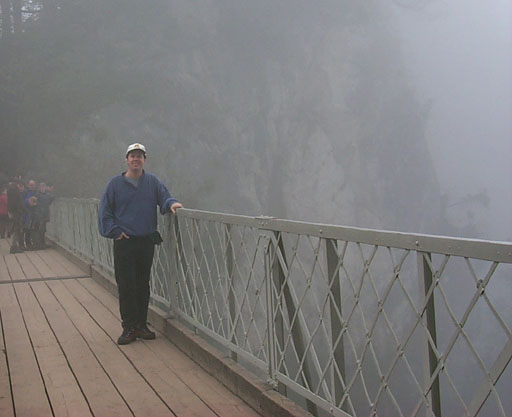 We were going to do a whole lot of things, but we didn't finish with lunch until 3 pm. We read about a Zepplin museum fairly close, but opted out (sorry Vance). Instead we went to a luge run in nearby Tegelberg. It is a metal track with carts. It was really fun, but cold.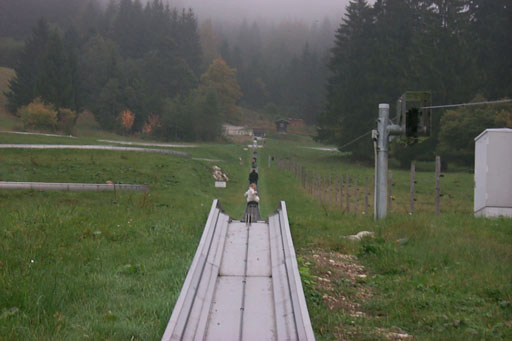 We came back to the Hotel zum Hechten in Fussen and had a relaxing afternoon-reading for Jeff and snoozing for me. We had Chinese for dinner. Oh a warning or mere observation for those not having been in Europe: service doesn't exist and drinks are expensive. Today at lunch we spent as much on drinks as food. Noone asks if you want anything else and you can sit around all day and they won't come back , even with the check. You have to flag someone down for anything. No water on the table and no free refills oh- and no ice. We walked around Fussen and had an ice cream.
Index
October 14-16, 1999