Day 9 - October 14, 1999 - Fussen to Berchtesgaden
Mission: Sommerrodelbahn

The drive from Fussen to Berchtesgaden took us through some beautiful country. Jeff navigated us through Austria to get to the sightseeing destination of Linderhof Palace. We drove through Reutte and stopped to take pictures of Ehrenberg castle ruins. We continued on and drove through a small village where we exchanged money for any rodelbahn that may come up. In Bieberwier there was supposed to be steep rodelbahn, but it was not open when we found it. I was very depressed. Then we headed back to Germany and through Garmisch. I think this is where my father skied when he was stationed in Germany. There were shear cliffs and signs directing to chair lifts, but I didn't see any ski-able mountains. Then we headed up a mountain pass to Linderhof Palace. This was the residence of Ludwig II of Neuschwanstein fame.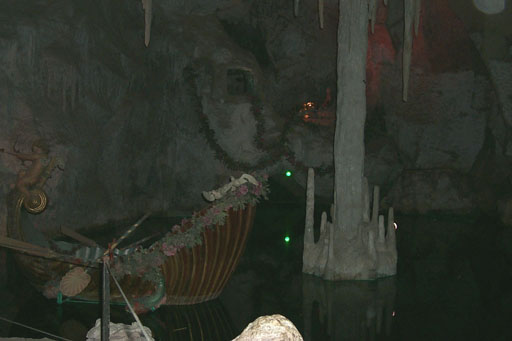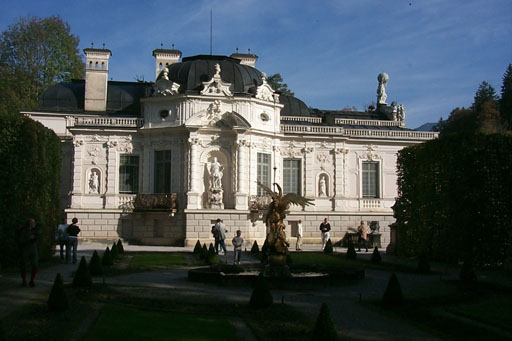 This is not a big house, but the grounds are extensive. He really was ostentacious. The top picture is his grotto. He built a building to simulate an Italian cave. Inside this cave are waterfalls, a pond with a swan boat and all sorts of wacky stuff. He even held concerts in this place. The house itself is pretty, but Jeff and I enjoyed walking around the gardens and park-like hills. He had a spot of lunch here, then headed onto our next headquarters. Through Oberammergau and a quick stop for SOMMERRODELBAHN in Blomberg. This one was a long ski lift ride and a sort of out-of-control-course down.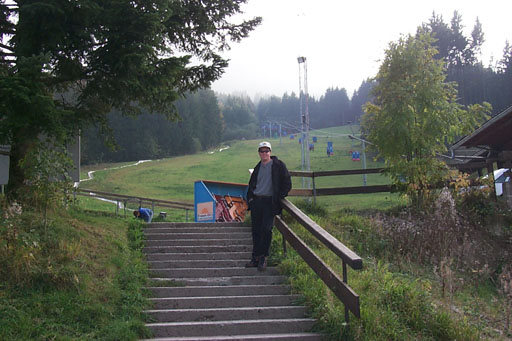 We then drove by the Chiemsee, a huge lake. We couldn't see the far bank. Then the light was failing when we finally arrived in the corner of Germany at Berchtesgaden. We checked into a hotel with a view (in the light). We saw an Italian restaurant and had a nice meal with better than previous nights service. The town was very quiet at night and we were really questioning your advice, Will.
---
Day 10 - October 15, 1999 - Berchtesgaden and Salzburg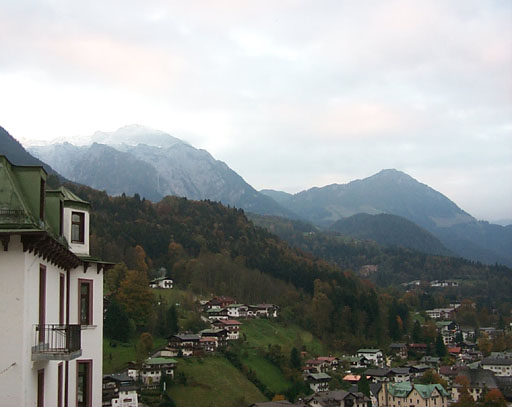 Well, we woke up to a glorious day, a beautiful view and a bustling town. We kicked around town for a little while and then headed to Salzburg. We took the walking tour in the Rick Steve's book and saw the Mozart spots. The town was very crowded and it took awhile to figure out the parking arrangements. We took an elevator up to the top of the city. We had lunch at Cafe Winkler and everything on the menu was different words. The day was warm and clear, so we kicked around on the top and had a look at the Hohensalzburg Fortress.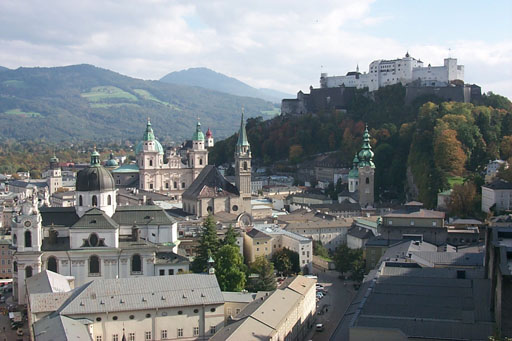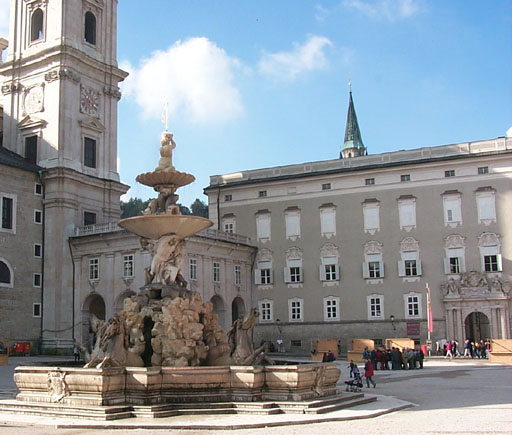 This was the busiest place we had been so far, so Jeff was feeling a bit crowded. We left Salzburg and went to a Rodelbahn near to Berchtesgaden, Obersalzburgbahn. This one was short, so we spent all our money and went 3 times each. For dinner we had Chinese.
---
Day 11 - October 16, 1999 - Berchtesgaden to Berlin
Before heading to Berlin, we grabbed some bread, cheese, chocolate, drinks, and fruit for the long drive north. The receptionist at our hotel asked if we were flying. When I said we were driving she thought I was crazy because it is so far. I told her it was only half the distance of the state of California. The drive was pretty uneventful. Outside of Munich was a long traffic jam. Later we found out the soccer game between Munich and Berlin was happening. We took a rest stop and ate lunch at 2pm. We didn't even know when we hit the former East. We only got a little lost getting to Birgit and Siggy's. We rested a bit and then went for Turkish food. My god was it really good. Tomorrow is Berlin.

Index
October 17-21, 1999