Day 12 - October 17, 1999 - Berlin
We slept in late and had a light (it is possible in Germany) breakfast. Siggy drove us around to see the tourist sights by day. We drove around the Brandenburg Gate and saw government building etc., but the city is very busy and crowded today. There were thousands of motorcyclists on the Unter den Linen (former East) to mark the passing of those killed in motorcycle accidents in Berlin (19 in the last year). Siggy wanted to take us to his favorite "Currywurst." The original had moved, but only a short distance. Currywurst is a "snack" (read: meal)-sliced and fried bratwurst sprinkled with curry powder and then dollops of ketsup and mayonaise. Believe it or not, I would eat that again.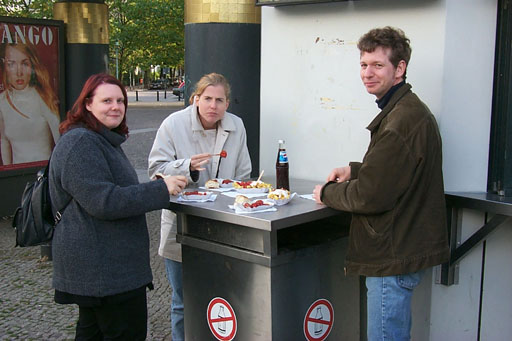 We drove around some more. We found parking at the site of the 1936 Olympics, but the stadium was closed. Around the stadium is a street name Jesse Owens Strasse. I explained to our hosts how ironic it was-Hitler's superior race lost to one black man. At 3pm we were expected at Siggy's family's. We were greeted with a lot of food. Frau Kesselman fussed over us with cakes and pastries (an entire table full). Herr Kesselman kept apologizing for his poor English (it's perfect). He enlightened us on the history of Berlin during and after the war. Jeff felt guilty about the comments on bombing and the division of the city. Yet, Herr Kesselman said they were happy to have the protection of the Americans and they were relieved when they found out they would be in the American sector in 1945.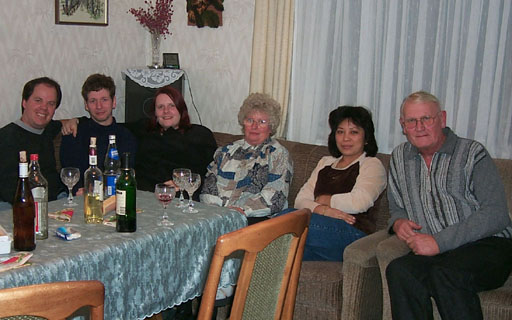 We walked around to the neighbors, who are family members. Then we came back to bottles of wine and beer on the table. There was a bottle of California wine on the table in our honor. We stayed until 9pm. We were alittle peckish so we went to a favorite Italian restaurant nearby.
(Has anyone noticed the food theme? We just can't help ourselves.)
---
Day 13 - October 18, 1999 - Berlin
This leg of our journey is slow and relaxed. We slept in again and started slow. Today we went to the Checkpoint Charlie Museum. It was alittle hard to visualize the original layout of this part of town. The Museum existed long before the wall came down and it was only a few yards away from the checkpoint. Gary, this probably looks different from when you were here 20 years ago. The museum houses documents, pictures, and devices used in helping people escape. I thought this place was heartbreaking. These people wanted out so badly. There were stories of families separated and even guards escaping. Siggy said he was one year old and being watched by his grandmother while his parents were on holiday in Denmark when "the wall" went up. His mother was terrified and they didn't know if they'd be able to get home. One day everything seemed to be fine and there was free movement between east and west and then - boom - a wall.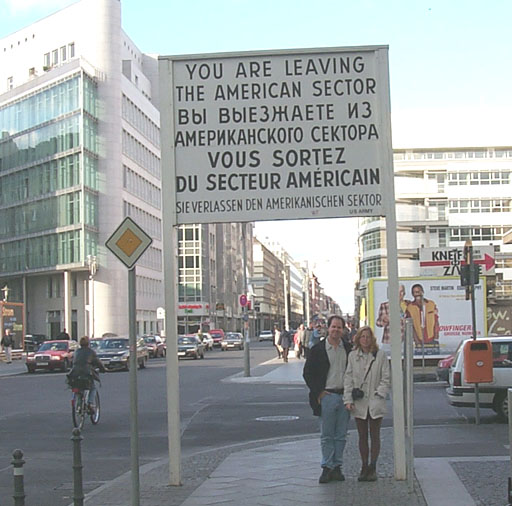 We then went to Ku'damm (Kurfurstendamm), this is the Champs Elysee of Berlin, since 1850. We walked to the Kaiser Wilhelm Memorial Church, a church bombed in the war and left as such to remind Berliners.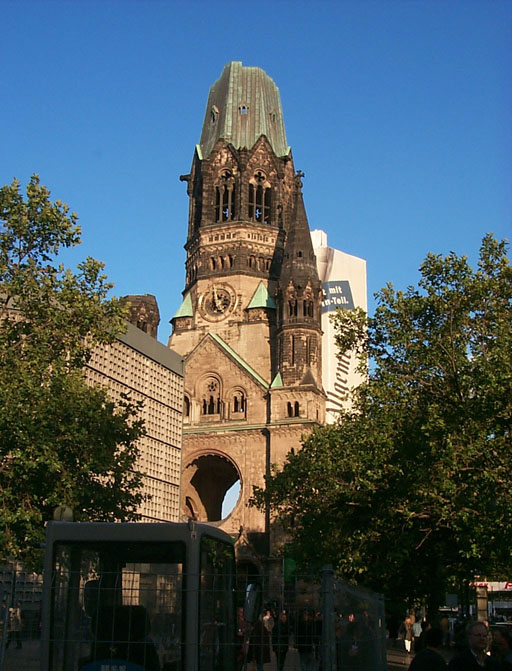 We needed to pick up some items for Birgit's dinner prep. This led us to Siggy's favorite snack shack. Pizza starting at 1.5 dm ($0.85). We had a few little pieces. Then we were headed back to the car when Jeff and I spotted someone making what we thought were burritos. We had to get one. Lavash-like bread with a dill-mayo- garlic sauce smeared on it, then gyro meat, lettuce-tomato-onion-cilantro mixture. all rolled up for 5dm. Yum. Birgit fixed Thai fish coconut soup and some milky tropical fruit tapioca dessert. Really good. Then we had drinks and listened to all the different music Siggy has, including a Welsh band.
---
Day 14 - October 19, 1999 - Berlin
Once again we had a late start. The temperature is dropping quickly. Today took us to the Brandenburg Gate. Once we found parking, we found ourselves in the middle of union ralleys' at the Gate. The streets were closed to traffic, so it was easy to walk around. I just couldn't believe that this symbol of freedom was on the East side of the wall. The people from the west could see the Gate, but not get to it.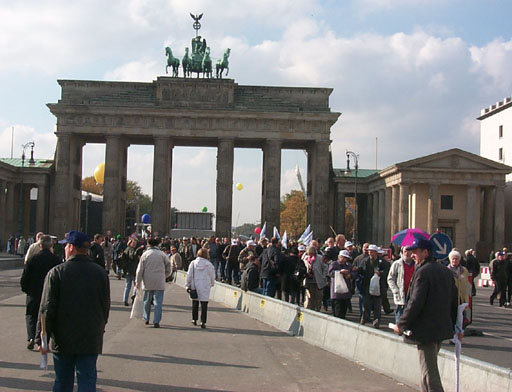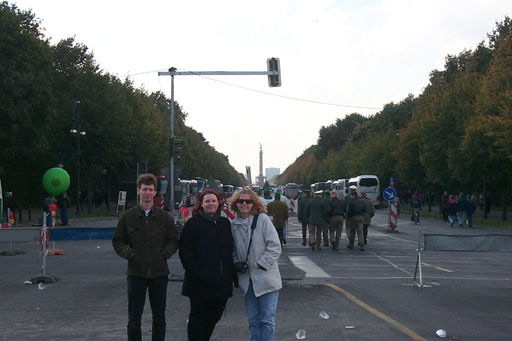 We then walked to the Reichstag- the new capital building. The line to get in was too long for Siggy, so we walked toward the Victory Column to take pictures. Siggy showed us the soviet war memorial that was in the West and had been guarded by Soviet soldier, who in turn were guarded by British soldiers. Strange. Then we drove to the former East Berlin Fernsehturm tv tower. We took the 40 second elevator ride up 1200 feet. This afforded a panoramic view of Berlin.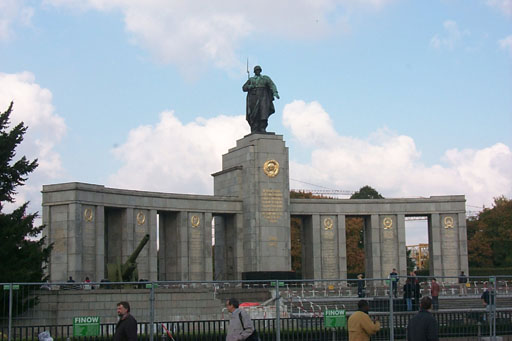 We then drove to the KaDeWe department store of the west. We had some sweets (I got a huge poppyseed cake). I found the 1999 Heutchenreuther Egg and much cheaper here. Birgit bought some cheese. We then drove to an artsy area of Berlin and walked around in what looked like bombed out building converted into artist studios. We had a stop at the "Keyser Soze" bar. We tried to explain that to Birgit and Siggy as they had not seen Usual Suspects. We then went to a new Indian food restaurant. I had no reservations with regards to speaking English and I was rewarded with her queens english. We had a lovely meal and plenty of leftovers. The wind had picked up. Siggy said it was always colder because we were in the East side and the wind blows from Poland. :).
---
Day 15 - October 20, 1999 - Berlin
Today Birgit had school and Jeff had some nagging work to finish, so Siggy and I went to his work at Steinway and Sons. There he repairs and tunes pianos along with 5-6 other men. I was shown around the workshop; pianos are very complicated machines.
When Siggy and I returned to the flat, Birgit was home (her class was cancelled) and Jeff had finished his work. We headed out for an early-ish dinner to Nepal food in the Kreuzburg area. I don't know if I can describe the food, because I had a really good brothy soup with glass noodles and something not entirely unlike Irish lamb stew. Birgit had a chicken stew, Siggy had sauteed spinach with garlic, and Jeff had chicken with glass noodles. The menu said the food was "scharf" but we were all sadly disappointed especially after the Indian food from last night. We walked around and found a comic book shop. Mostly in English until we were directed to the German stuff. Greg, you will have your work cut out for you when we get home. We then went to a bar-lounge. The decor was funky. The guys had beer and the girls got hot choco. The evening was getting very cold 0 C(that's 30 degrees folks). We went back to the flat and Birgit made us a local drink. Then Jeff mixed margaritas and martinis. We danced and drank until 1.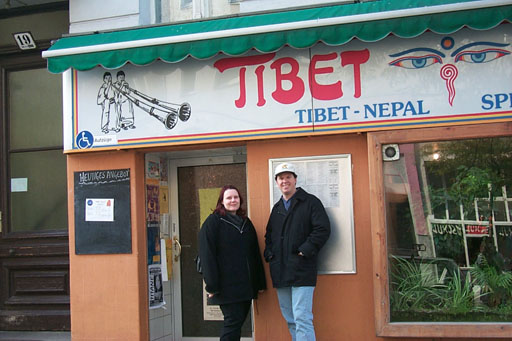 ---
Day 16 - October 21, 1999 - Berlin
We decided to skip breakfast and head out for lunch. Birgit wanted to try something new. We hopped into the car and headed to a coffee house. All the servers were in black and had attitudes. We all had salad sandwiches which were good. Then we cruised the second hand shops. I was in desperate need of my Halloween costume and I found one. Couldn't get anything more obnoxious for so little money (under $24 including the shoes). No, peeking yet though. The guys stuff wasn't as good, so no luck on Jeff. Birgit had lent me a hat and scarf and that made it easier to brave the cold. It is especially sad, because we have been watching CNN and know how warm it is at home. Birgit and Siggy are jealous, because it is only going to get colder here.

Jeff braved driving around Berlin on his own and found his way back to the flat. Since the Turkish food is so good, I wanted it again. That is a must to find when we get home. We went to have Turkish food from the Anatol region. They cook there food in clay pots in a very hot wood fired oven. The waiter spoke perfect English and German. He played a little joke on me. He brought all the food and uncovered the pots. I was looking in mine and took a bite. It was cold. The whole kitchen started laughing. Then he brought my dish, lamb. Later he read Birgit's fortune in the turkish coffee dregs. We played a joke on him and left 10dm rolled in a dollar bill.

Index
October 22-26, 1999